Learn More about Eric Edney's Story and Why Hair Analysis is His First Step to Combating ALS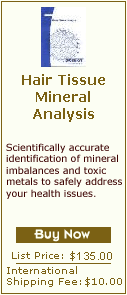 Eric Edney has survived ALS for over 16 years. Eric was first diagnosed in 1993, although his first symptoms occurred in 1990. During the first few years of Eric's ALS experience, he was able to gather a great deal of information about ALS and develop a program to beat it. He soon realized that he had more information about ALS than was available from any other single source. Additionally, his theories and regimen were proven to be correct; they are working.
Eric has managed to stop the progression of his ALS symptoms. He has beaten the odds by starting with a hair analysis to determine his specific nutritional and detoxification needs and knowing how to implement them. His focus is not to treat the disease but to make his body as healthy as possible to fight it!
Eric recommends Dr. Akin and the lab she uses for hair analysis because of the cutting edge technology, scientific accuracy and creditability this lab provides. He also likes the experience, knowledge, exceptional customer service, and availability Dr. Akin has proven.
Never before has there been an available metabolic blueprint with such a degree of applicable scientific accuracy.
Our hair analysis is more than a test for heavy metals. It provides you with a unique, non-invasive means of information revealing your body's specific toxins and mineral content. With a true understanding of your body's chemistry, one can effectively design a detoxification and nutritional program to safely and successfully address your health issues. It also avoids you wasting your money on poor supplement choices and products that you don't need.
Getting a hair analysis now to determine your specific nutritional and detoxification needs is the best thing you can do for yourself and/or your loved one!